Launch of the Bridging Innovation and Learning in TVET- project
The UNESCO-UNEVOC International Centre in cooperation with BIBB held the kick-off conference for the Bridging Innovation and Learning in TVET project on 10-11 July in Bonn, Germany.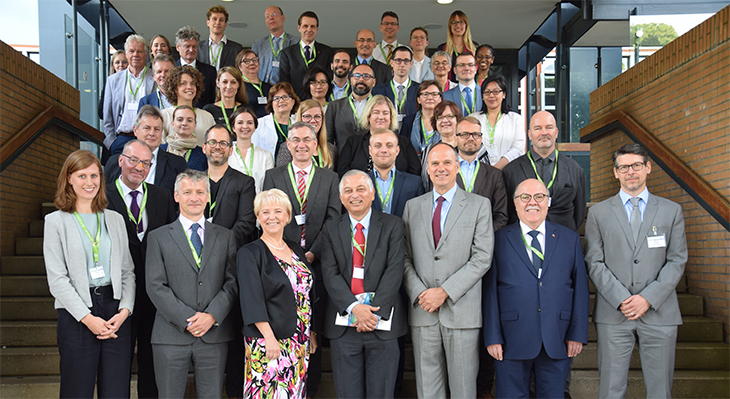 To remain relevant for the world of work and attractive to learners and potential employers, modern TVET systems need to adapt to new technologies and structural changes in the labour market. A main challenge of TVET is to create modern and attractive professions and career paths, which attract and integrate youth. With ever-faster innovation cycles, the demand for peer learning is also accelerating, both within Europe and internationally.
The Bridging Innovation and Learning in TVET (BILT) project seeks to support TVET institutions in addressing the transformation challenges and to explore innovative approaches and new practices. Having national competencies in view, the project will support collaboration activities that are targeted to enhance national as well as multinational TVET capacities, generate new knowledge and share information in TVET. The project will mobilize and reactivate the European UNEVOC TVET cluster as a platform to foster learning and to establish content-oriented synergies. It will also act as a springboard for trans-regional action, involving innovative UNEVOC Centres in the Asia-Pacific and African regions.
The opening was held by Kornelia Haugg, Director General of the Federal Ministry of Education and Research (BMBF), by Prof. Dr. Hubert Ertl, Head of Research and Vice-President of BIBB and by Shyamal Majumdar, Head of UNESCO-UNEVOC International Centre.
Before entering into the discussion on the topics of New Qualifications and Competencies' Greening, Digitalization, Entrepreneurship, and Migration two keynotes were held on the European and global VET perspective by João Santos, Directorate General for Employment, Social Affairs and Inclusion of the European Commission and by Anthony Mann, Centre for Skills of the Organization for Economic Cooperation and Development (OECD).
During the Kick-off Conference 20 UNEVOC- Centres and other participants from 16 European countries exchanged opinions on proposals and concrete projects in the above mentioned themes under the BILT framework.
In Europe, there is already a wealth of experience in addressing some of the above challenges, but little opportunities to exchange experience of how to implement new ideas and concepts. Such an ex-change, however, could help improve, speed-up or, in some instances, initiate relevant action to ensure modern and relevant TVET, both in Europe and beyond.
In particular, there is a high demand in TVET to capitalize on the opportunities from digitalization trends, to contribute to sustainability through green career pathways and competencies and to foster entrepreneurial skills. There is also a high demand to understand how TVET can help cope with the challenge of migration, both at the sending and the receiving end.
The BILT project is carried out in collaboration with the UNEVOC Network, coordinated by UNESCO-UNEVOC with support of the Federal Institute for Vocational Education and Training and the BIBB and it is sponsored by the German Federal Ministry of Education and Research, BMBF.
Goals:
To exchange on innovative practices and how TVET systems address their integration
To activate the European Cluster of the UNEVOC Network through collaboration in innovation and learning bridges
To identify and include new qualifications and competences which are needed for modern, competitive TVET systems and attractive career paths
To create opportunities and identify potentials to bridge innovation and learning experiences between Europe, Africa and Asia