German companies and American vocational education and training institutions engaging in successful cooperation
17.06.2014
The "Skills Initiative", which aims to foster cooperation between German companies and American vocational education and training institutions, has proved to be a great success. A bilateral agreement will now be signed between Germany and the USA with a view to intensifying VET cooperation.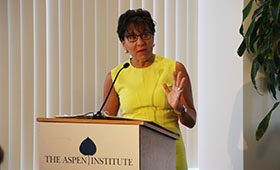 A special conference staged under the title of "Skills Training for a Modern Manufacturing Workforce: Does the German Model Have Lessons for the United States?" has looked at the impact of the "Skills Initiative" launched in the USA in 2012 and concluded that the programme has been a complete success.
The German Embassy and the US federal states are using the "Skills Initiative" as a vehicle to promote regional partnerships between German companies and American VET institutions. The objectives are to improve vocational education and training in the USA and to enable German companies operating in the country to cover their requirements for skilled workers. Regular events have been taking place as part of this initiative since 2012. These involve the exchange between German companies of examples of good and best practice in cooperation models.
The various opportunities for cooperation and examples of best practice were also an object of podium debate at the special conference, which attracted high-ranking US Government representation in the person of Penny Pritzker, the current Secretary of Commerce. In her keynote speech, Ms. Pritzker praised the Skills Initiative and the good economic relations between the USA and Germany. She also announced a bilateral agreement between the governments of the two countries to strengthen professional networking and cooperation within the field of vocational education and training.
The German Ambassador Peter Wittig reported that German direct investments in the USA had enabled the creation of over 600,000 jobs.
The special conference took place in Washington DC on 17 June 2014. The organisers were the German Embassy in Washington, the Aspen Institute, the Representative of German Industry and Trade (RGIT) and the German House of Research and Innovation in New York. The German Office for International Cooperation in Vocational Education and Training (GOVET) participated in the conference on behalf of the Federal Ministry of Education and Research (BMBF).