Vocational education and training (VET) and digitalisation – options for the flexible adaptation of training occupations
Stephanie Conein, Gert Zinke
The highly dynamic nature of the changing world of work also leads to new requirements in initial vocational training. Training regulations already offer considerable leeway due to their technologically neutral design. Nevertheless, the need for short-term adaptation and differentiation arises in training occupations –reinforced by digitalisation. What options are available in this regard? This article presents the most important of these possibilities and provides examples of how they have been used in recent years.
Short-term integration of new requirements
Ongoing digitalisation is changing the world of work and, as numerous investigations have demonstrated (cf. Acatech 2016; Zinke 2019), is leading to new skills requirements. This is being caused by alterations to work processes and tasks, for which additional or different professional competencies are now needed, such as IT security issues and the ability to work together across occupations. Changes are, however, taking place at a different pace depending on the sector and individual company. Because of the huge expenditure of time and human resources associated with modernisation procedures, the general view is that a complete revision or the creation of more new occupational profiles is not the right way forward for many occupations at present. Changes are instead being made to existing occupational profile items, while the opportunities afforded by extra differentiation are being increasingly used. This extra differentiation can be provided via structural elements such as elective or additional qualifications. These amendments can be achieved by pursuing less elaborate procedures and can be firmly established in company-based initial VET within a relatively short space of time. At the same time, the changes are delivering impetuses for further development of the respective training programme and are helping to enhance the attractiveness of occupations. They are also opening up possibilities for greater specialisation as well as building bridges to continuing training and setting out the direction of travel for fundamental updating procedures to be carried out at a later date.
In this way, adaptations to the electrical, metal working, IT and scientific occupations have been made in the form of amended training regulations over recent years.
ADJUSTMENTS TO OCCUPATIONAL PROFILE ITEMS
The industrial metal working and electrical occupations and the occupation of mechatronics fitter were last updated in 2007. Within the scope of amended training regulations entering into force at the start of the 2018/2019 training year, a joint integrative occupational profile item entitled "Digitalisation of work, data protection and information security" was introduced. Integrative occupational profile items are imparted across the whole of the duration of training. In many training regulations, they relate to aspects such as quality management and the organisation of work. Individual adjustments have also been made to other occupational profile positions. The IT occupations were modernised via amended training regulations that took effect on 25 May 2018. In this case too, the essential innovation was to supplement the regulations by adding the topic of "IT security" and to expand and reformulate the underlying learning objectives. The necessity of dealing with digital media in a responsible way was also addressed by adding an element to the occupational profile position of "Informing and communicating". Corresponding changes to the skeleton curricula used at vocational schools were made at the same time.
ELECTIVE QUALIFICATIONS
Elective qualifications are a structural element of training occupations in highly specialised sectors. Depending on their task spectrum, companies are able to combine various skills needed in individual areas by using several elective qualifications. Testing takes place as part of the regular final examination.
The amended training regulation for the occupation of chemical technician of 20 March 2018 added a further elective qualification entitled "Digitalisation and networked production" alongside the existing elective qualifications (cf. Knieling/Conein 2019). This means that companies which have made more progress along the route towards digitalised production are able to impart relevant skills and competencies in a more detailed and advanced way.
A procedure to amend the three laboratory occupations of chemical laboratory technician, biological laboratory technician, and lacquer and varnish laboratory technician will begin in the autumn of 2019. Adaptations here will also be undertaken via the vehicle of elective qualifications. The intention is for the elective qualification "Laboratory-related information technology" to be replaced by "Digitalisation in research, development, analytics and production". The elective qualification "Working with automated systems in the laboratory" is set to be renamed "Working with networked and automated systems". Slight modifications will also be made to the content of the latter.
ADDITIONAL QUALIFICATIONS
Additional qualifications consist of knowledge and skills that go beyond the standard contents of VET. They are optional and imparted within the scope of company-based training. Codified additional qualifications are integrated into training regulations. Testing takes place via a separate examination which forms part of the final examination. The legal basis for additional qualifications was created by the 2005 reform of the Berufsbildungsgesetz [Vocational Training Act]. Several additional qualifications were introduced in the amended training regulations for the industrial metal working and electrical occupations and the occupation of mechatronics fitter (2018). Each of these is taught over a period of eight weeks. Four new joint additional qualifications have been created for the metal working occupations and three for the electrical occupations. They address major areas of activity that are connected with digitalisation. An additional qualification entitled "Additive manufacturing procedures" has been introduced for the occupation of mechatronics fitter. This has been taken from the metal working occupations and will now join existing electronics technician additional qualifications.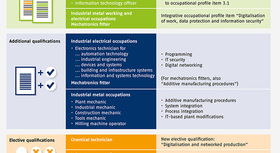 The Figure summarises the amended training regulations enacted in the electrical, metal working, IT and scientific occupations in 2018 and also lists the structural elements which facilitate this flexible adaptation. All of these procedures show that existing occupations can be promptly adjusted to meet the qualification requirements created by technological change via structural elements such as elective and additional qualifications. The present VET system thus exhibits a high degree of flexibility. It will be interesting to track how these opportunities are used in training practice.
STEPHANIE CONEIN
Dr., Research Associate in the "Electrical, IT and Scientific Occupations" Division at BIBB
GERT ZINKE
Dr., Research Associate in the "Electrical, IT and scientific occupations" Division at BIBB
Translation from the German original (BWP 5/2019): Martin Kelsey, GlobalSprachTeam, Berlin