International experts discuss innovation in VET in Bonn
From 2 to 3 December 2019, over 100 delegates from 40 countries came together as part of the "UNEVOC Global Forum on Advancing Learning and Innovation in TVET" to discuss innovative approaches, projects and solutions promoting quality and excellence in vocational education and training. Prof. Dr. Hubert Ertl, Director of Research and Vice President of BIBB, chaired the closing panel discussion.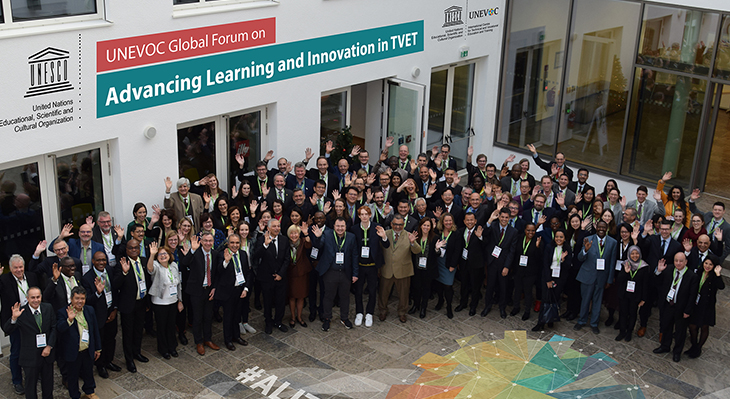 The Global Forum was opened by Mr Shyamal Majumdar, the long-time head of UNESCO-UNEVOC and advocate for international cooperation in vocational education and training. The aim of the event was to highlight the challenges in current developments in VET and to formulate ways to overcome these. A range of different approaches and case studies were presented by the individual countries and their transferability to other countries and systems was discussed. Discussions took place in particular regarding the challenges posed by advancing digitalisation and the new economic and environmental requirements.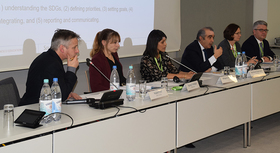 BIBB Director of Research Prof. Ertl chaired the closing panel discussion on 3 December. The discussion included contributions from experienced individuals within vocational education and training such as Borhene Chakroune (Director, Policy and Lifelong Learning Systems, UNESCO), Cesare Onestini (Head of the European Training Foundation), Dana Bachmann (Head of Unit, VET, Apprenticeship and Adult Learning, European Commission), Ina von Frantzius (Head of the Training Division at the Federal Ministry for Economic Cooperation and Development) and Milagros Lazo Castro (Technical Officer, International Labour Organisation). They reflected on the conversations and discussions from the previous two days and introduced potential strategies from the perspective of international organisations for the improved networking of stakeholders involved with innovation in VET.
Cesare Onestini emphasized, for example, that initial and further training for teachers needed to be more strongly integrated in innovation. For Ina von Frantzius it will be necessary in future to make the use of artificial intelligence accessible to all and, by means of continuing education and training, to improve the prospects for young job seekers and, in particular, for women, displaced persons and refugees. In closing, Prof. Ertl emphasized that improved networking among stakeholders would help to ensure the integration of VET innovation in the considerable social and economic changes taking place. He added that this might result in a more effective and sustainable embedding of innovation and might therefore make vocational education and training more attractive.
BILT – Bridging Innovation and Learning in TVET
Results from the BILT (Bridging Innovation and Learning in TVET) project were presented on the first day of the conference and specifics were discussed regarding the next steps to take. With workshops having taken place between October and December 2019 in various European UNEVOC centres, further events are planned for 2020 in cooperation with active centres in Europe, Africa and Asia. The BILT project has developed over a long period of time and was born out of intensive cooperation between UNESCO-UNEVOC, BIBB and BMBF.
All information relating to the project and the latest reporting on the individual workshops is available on the relevant project page