BILT workshop on Migration and TVET
Participants from nine European countries (Italy, Malta, Sweden, Finland, Cyprus, Netherlands, Spain, Germany and United Kingdom) met for a workshop on 'Migration in TVET' at the University of Nottingham, UK, from 10 to 11 December 2019. The event was the last of five thematic BILT workshops (Bridging Innovation and Learning in TVET) in 2019 and allowed participants to share and discuss innovative approaches and initiatives from across Europe.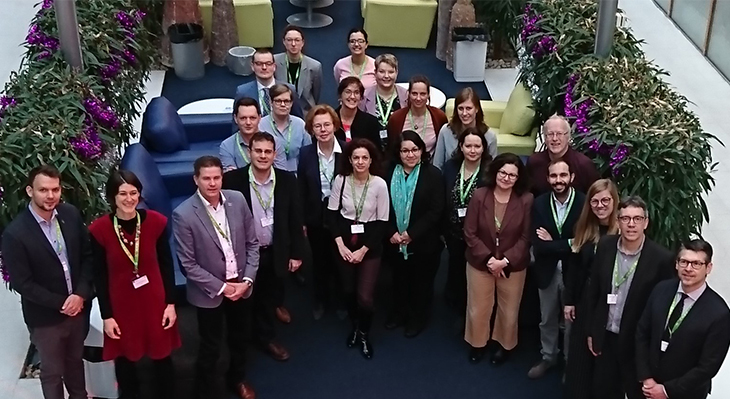 In the course of two workshop days, participants presented twelve project and programme examples related to the challenges of Migration in TVET, with additional framing and context provided by representatives of the University of Nottingham. The examples were associated with the key issues below. Further information concerning the examples can be found in the workshop summary reports (see download section).
Key Issue 1: Recognition of prior learning and qualifications & labour market integration
NetQA Network Skills Analysis, BIBB/Saaris, Germany
Immigrant integration and settlement training, Spring House, Finland
In care – Out of worries, Zuyderland Care Centre, Netherlands
KATE Project, Otava Folk High School, Finland
Employing Digital, Fundación Secretariado Gitano, Spain
Key Issue 2: International Skills & Labour Mobility
The following experts from four different non-governmental and intergovernmental institutions discussed the second key issue on a panel:
Ioannis Katsikis, Expert, Department for Learning and Employability, Cedefop
Christine Hofmann, Skills and Employability Specialist, ILO
Helen Dempster, Assistant Director and Senior Associate for Policy Outreach for the Migration, Displacement, and Humanitarian Policy Program, Center for Global Development
Manuel Hoff, IOM
Key Issue 3: Social inclusion of migrants
MiniMaster: VET for inclusion and identity development, Cometa, Italy
Making education accessible to enhance learning, employability and integration opportunities for migrants, MCAST, Malta
Aquiring language and skills to successfully enter the work force – a Swedish approach, CFL Soderhamn, Sweden
Measures for Improving Social and Educational Integration of Children coming from third world countries, Cyprus Pedagogical Institute, Cyprus
The gendered narratives of immigrant learners with limited formal schooling, Nottingham College and University of Nottingham, UK
About the project
The workshop on Migration in TVET was the final of five within the UNESCO-UNEVOC's Bridging Innovation and Learning in TVET (BILT) project in 2019, which focuses on the thematic areas of Greening, Digitalization/Industry 4.0, Entrepreneurship, Migration, and New Qualifications and Competencies. The BILT project aims to facilitate the exchange of experiences and peer learning across the European UNEVOC Network within these thematic work streams.