Supplying the nation with food – one good reason to be a farmer
Agricultural produce such as grain, potatoes and milk all help to ensure that the basic food requirements of the populace are met. Farming is therefore very much a key occupation, especially in times of crisis. Productivity has increased significantly in recent decades. Just after the Second World War, one farmer was able to supply ten people with food. This figure had risen to 139 by 2018.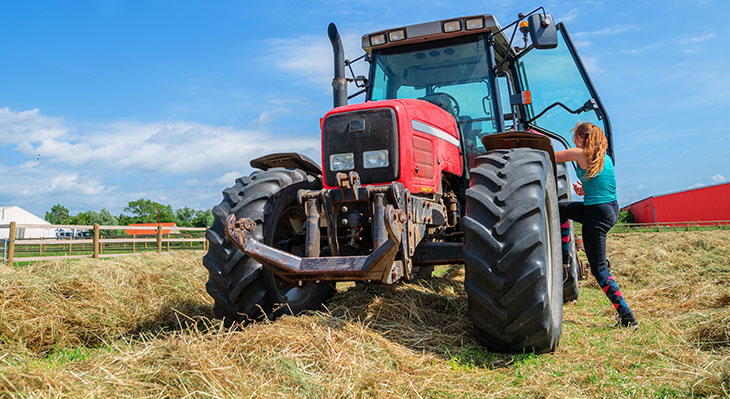 The German Food Security and Supply Act (ESVG) deems primary agricultural production to be a critical infrastructure. Plant-based commodities such as grain and potatoes and animal produce including eggs, milk and meat are central to guaranteeing that people are provided with the foodstuffs they need. Farmers plant many of their annual crops during the preceding autumn and have usually already stored seeds for spring cultivation. This means that no shortages of any kind are to be expected. The same applies to animal products. Livestock is predominantly raised at family-owned companies, where it is tended by permanent employees.
Profile and main task focuses of the occupation
The occupational profile of farmers is mainly characterised by dealing with animals and plants and by working in and with the natural environment. Vocational education and training within the occupation particularly reflects the breadth of agricultural tasks. Training regulations cover a total of 17 branches of plant and animal cultivation. Training is required to be based on at least two fields of crop growing and animal husbandry.
In the case of plant production, the areas included are grains, sugar beet, potatoes, maize, oilseed crops, legumes, arable feed production, grassland management and forestry. Skilled workers first face the task of carrying out tillage and soil processing measures that retain sustainable fertility. They tend and maintain plant populations whilst ensuring that cultivations are managed in an environmentally compatible manner. Measures relating to aspects such as fertilisation in line with requirements and integrated plant protection play a role here. Lastly, the harvesting and utilisation of plant products are also part of their work.
In the field of animal husbandry, trainees can choose from the branches of dairy cattle farming, beef cattle farming or cattle fattening, sow keeping and piglet production, pig rearing or pig fattening, laying hen husbandry, poultry rearing and poultry fattening, sheep husbandry and horse keeping. Core focuses here include the watering, caring for and feeding of animals as part of an approach towards husbandry that is rooted in animal welfare, the monitoring of animal health and the cleaning of stables and pens. Animal produce obtained also needs to be evaluated in terms of quality.
Training also covers the operation and driving of tractors and other means of transport and the deployment of technical equipment, which is increasingly being used in a digitalised and networked way. Preventative maintenance and repair work also plays a role in this regard. All "agricultural business" has its foundations in the planning of production and work processes and in the ongoing checking and direction of measures instigated, including under changing circumstances dictated by the weather.
The professional tasks carried out by farmers take place within the area of conflict between economic necessities and ecological requirements. Aspects such as the protection of soil and drinking water, landscape conservation, animal welfare, species protection and biodiversity are all of significance, and organic farming represents one particularly sustainable form of this approach. On the other hand, economic elements also need to be taken into account. Against this background, training encompasses observation of market developments, involvement in the marketing of plant and animal products and the completion of business processes. In this way, initial vocational education and training also goes some way towards opening up the prospect that trainees will later manage their own company.
Occupational fields of deployment
Farmers mainly work at agricultural companies that specialise in plant production and animal husbandry. Within the former area, they may also be employed by agricultural contractors. Employment with technical agricultural service providers is a further possibility.
Access opportunities/prerequisites
As is the case with all training occupations, there are no formal requirements in terms of school leaving qualifications for those who wish to enter training. Nevertheless, young people will need to make a successful application for a company-based training place if they wish to complete training in the occupation of farmer. An interest in working with plants and animals, manual dexterity and a good level of technical understanding are important prerequisites. Other requirements include the ability to work autonomously, a sense of responsibility, organisational talent, problem-solving skills, flexibility, and entrepreneurial thinking. Further conducive characteristics of the occupation are good physical condition and a willingness to adjust to a high degree of work intensity in the area of animal husbandry and to seasonal workload peaks in the field of crop production.
Prospects
Ongoing structural change is taking place in the agricultural sector. The number of agricultural companies is falling, but firms are also becoming bigger as productivity goes up. Specialisation is increasing in line with a rising demand for expert skilled workers. Against this background, trainee numbers have remained very stable in recent years. One possible further route is to enter farming management by pursuing advanced training leading to a master craftsman qualification in agriculture. Many of those completing training go on to work for themselves in their own business. There are, however, also specialised large companies which require skilled workers within individual areas. Advanced training leading to the qualification of agrarian specialist can also be undertaken in specialisms such as insemination procedures, herd management, hoof care and direct agricultural marketing. Practice-related basic principles and preparation for a company management position can, however, also be imparted via instruction at one-year and two-year trade and technical schools.
Duration of training
Training in the occupation of farmer generally lasts for three years. This period may be reduced from three to two years for trainees who are in possession of a university of applied sciences entrance qualification or a general higher education entrance qualification or for those who have already completed a programme of vocational education and training.
Figures relating to training
The training allowance in the first year of training in the occupation of farmer is €681 in western Germany and €630 in eastern Germany. In the second year of training, this rises to €743 in the west and to €685 in the east. The figures for the third year of training are €800 and €752 respectively.
A total of 8,937 persons were undergoing training in the occupation of farmer in 2018. This number included 1,470 women. Most trainees are to be found in Lower Saxony, North Rhine-Westphalia and Bavaria. In the same year, 3,690 trainees successfully completed their final examination. This represented a pass rate of 94.1%. Persons who have been employed in agriculture for a period at least one and a half times as long as the prescribed duration of initial training in the occupation or who are able to produce credible evidence that they have acquired sufficient employability skills may also be admitted to the final examination. 1,284 persons availed themselves of this opportunity in 2017. The pass rate for this group was 95.1%, a higher proportion than that achieved by persons who had completed company-based training.