Medical assistants – the first point of contact in outpatient care
Outpatient medical services make a crucial contribution towards the diagnosis of illnesses and towards providing patients with the right advice and care. This also reduces the burden on hospitals. Outpatient facilities are a key pillar of our healthcare system, and their significance is becoming particularly apparent as we strive to deal with SARS-CoV-2 and COVID-19. Medical assistants take on an important function within the team at a doctor's surgery.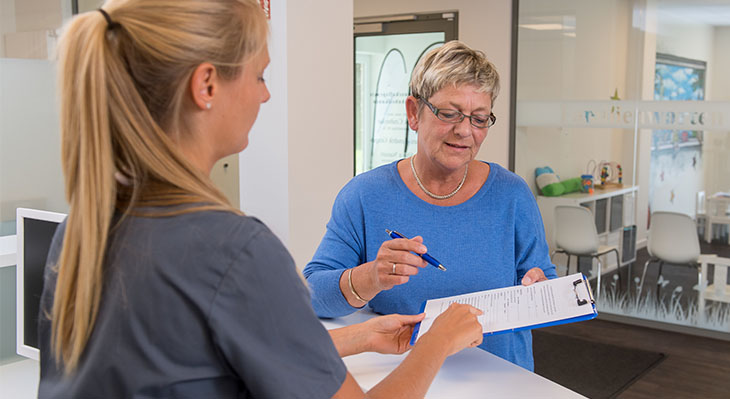 They address the requirements of patients in a sensitive way whilst also carefully monitoring the procedures and work processes at the surgery. At present, there is a particular need to comply with special hygiene regulations in order to ensure that outpatient care can continue and that further infections are avoided. It should not be forgotten that patients suffering from chronic and acute illnesses still need to be looked after.
Profile and main task focuses of the occupation
400,000 medical assistants work in the healthcare system across Germany. The number of persons employed in this occupation rose by about 8% during the period from 2012 to 2018. Medical assistants are mainly employed at general doctor's surgeries and at every kind of specialist practice. They may also work at medical care facilities, in medical laboratories, in company medical departments and in the public healthcare sector.
Medical assistants support and advise patients before, during and after treatment. They assist with examinations, treatments, and surgical operations. They are responsible for the organisation and administration of the surgery or practice. They instigate cross-system and inter-professional cooperation and are involved in quality assurance across all work processes. Medical assistants also document treatment procedures and record services so that billing can take place. They act as an initial port of call and direct point of contact for all patients, either face-to-face, by telephone or via other media. This is also a function which they perform outside the current situation in which we are confronting SARS-CoV-2 and COVID-19. Comprehensive knowledge is essential in order to be able to react to personal and life situations and to respond to the questions and anxieties of patients being treated. Medical assistants need to take account of the psychosocial and somatic conditions governing patient behaviour and also require expertise in communication methods and techniques, in patient motivation and in the resolution of conflict situations.
Figures relating to training
Around 16,000 new training contracts are currently being concluded annually in the occupation of medical assistant. This places it in the TOP 10 of dual training occupations. Amongst women, it is even the second most popular option.
The three-year dual programme takes place in conjunction with the doctor's practice or other medical care facilities providing training together with an appropriate vocational school. The occupation of medical assistant falls within the area of responsibility of the "liberal professions". No restriction to admission exists because training regulations are governed by the Vocational Training Act (BBiG). A majority of around 60% of trainees have completed the intermediate secondary school leaving certificate. Around 20% respectively are in possession of the lower secondary school leaving certificate or a university of applied sciences or general higher education entrance qualification. The average monthly training allowance based on collective wage agreements is €852.
Prospects
Wide ranging updating training provision exists for medical assistants in order to enable them to keep their employability skills up to date and expand their competence. Areas covered include medical assistance, practice organisation, billing of services and quality management. There are also regulated upgrading training programmes to cover the rising demand for qualified staff able to perform specialist tasks and take on management functions.
The advanced training qualification of "certified senior clerk for healthcare and social services", which is regulated in a nationally standardised way, opens up attractive career options in middle management. In smaller and medium-sized healthcare facilities, upgrading training leading to the qualification of "certified business administrator for outpatient medical care" enables specific leadership and/or specialist functions to be assumed within teams. These encompass core processes relating to the patient and thus significantly reduce the doctor's workload.