BIBB REPORT Edition 4/08

Immigrants in the continuing vocational training system
Monika Bethscheider
As a rule, continuing vocational training offerings have not made special allowances for immigrants to date. When continuing vocational training programmes are developed, little consideration is given to the conditions that are specific to immigrants' learning situations. Studies conducted by the Federal Institute for Vocational Education and Training (BIBB) show however that supporting these target groups in ways that are tailored to their needs is constructive and can be done with comparatively little effort or expense. Of crucial importance in this connection are the methodological/didactic expertise of the instruction personnel and the provision of flanking assistance. A programme has been set up under the European Social Fund (ESF) to fund occupation-related language instruction. This programme can be used to finance supplementary instruction provided in connection with continuing vocational training programmes and promises to generate new impetus in this direction. The following report also outlines next steps for improving the occupational integration of qualified immigrants.
High unemployment rates - Enormous need for continuing training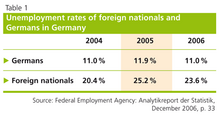 Continuing training is considered to be a fundamental tool for reducing the risk of unemployment. In fact, it is seen as the "key to employability" (Confederation of German Employers' Associations, 2007). It is therefore an important foundation for the long-term integration of immigrants into society because integration into the labour market serves "on the one hand .... to ensure one's livelihood and participation in society" and on the other hand increases immigrants' acceptance by the dominant societal majority (Brück-Klingberg et al., 2007, p. 4).1 However, the unemployment rate among foreign nationals2 continues to be substantially higher than the unemployment rate among Germans - at 23.6% in 2006, it was more than double the German rate of 11.0% (see Federal Employment Agency 2006, p. 33, see Table 1). Integration into the labour market is even more difficult for ethnic German immigrants from eastern and south-eastern Europe - especially for those who are university graduates (Hönekopp 2007, p. 164, Brück-Klingberg 2007, p. 4).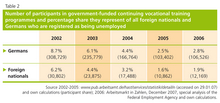 At the same time, Federal Employment Agency statistics show that the rate of participation of persons of foreign origin in measures funded by the Agency was not only much lower in 2005 than in previous years, it was also lower than the participation rate of unemployed Germans (see Table 2).
In light of these findings, the provision of continuing vocational training to immigrants should be a central item on the education policy agenda. This is however not the case.
This also parallels the research community's inadequate interest in this group of persons to date. Up to now, the situation of immigrants3 in continuing vocational training courses has seldom been the focus of scientific analyses or political concepts (see as an example: Konsortium Bildungsberichterstattung 2006, p.138).4 On the whole, the existing data on continuing vocational training is a jumble that is filled with gaps (Arnold/Schiersmann 2004, p. 33; Seidel 2006, p. 35). This is especially the case however when it comes to the state of our knowledge about the provision of continuing vocational training to immigrants. On the one hand, the understanding and operationalization of 'continuing training' are divergent.5 On other hand, there is no binding definition of the term 'immigrant background' and a number of official statistics continue to list just nationality.
Interest in that group of immigrants in particular who have already earned formal vocational certification and/or an academic degree has been slight to date (see Nohl et al., 2006). The following article deals with this group - in other words, with immigrants who attend continuing vocational training courses together with natives. In such courses they comprise a minority6 consisting of persons from a variety of countries. They do not view their experience with immigration per se as a commonality that binds them as a group7, and they strive to make any difficulties that are related to their immigration situation as invisible as possible in the course they are attending.
Success depends on the instruction personnel and how programmes are organized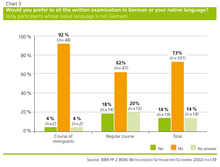 In the course of two research projects in recent years, BIBB has analysed the learning situation of immigrants who participate in continuing vocational training courses with a mixed participant structure (natives and immigrants). These projects were set up to determine any special characteristics that may exist and formulate on the basis of empirical surveys a few fundamental recommendations for how such courses should be organized. This was done with the aim of making regular continuing vocational training courses not just formally and legally accessible for immigrants but also of taking their learning situation into account in appropriate ways. The research findings revolve around various aspects of communication in German - the language the courses are conducted in - as a native language or as a second language. In this connection, they offer valuable tips for the measures to foster occupation-related language skills which are envisaged as part of Germany's national ESF programme.
Special learning situation - Assistance on offer
Working on the basis of trainer aptitude courses, BIBB examined, as part of one research project8, which demands courses make that participants of foreign origin in particular could find especially difficult and which measures would be suited to assisting these individuals while preserving the content requirements for the course and examination. In addition to discussions with experts and participatory observations during selected course sequences, the study involved first and foremost a standardized written survey of training providers and a total of 358 participants, 180 of whom were of foreign origin and - as a control group - 178 participants of German origin. Surveys were conducted of participants in regular courses and - as a control group - participants in special courses for immigrants which were being offered in some cities at that time as part of the Fostering Local and Regional Projects to Exhaust and Increase the Number of In-company Training Places on Offer project.9
The participant survey focused not only on structural data but was also interested in the participants' personal reasons for attending the particular course, difficulties they experienced during the course, their evaluation of any assistance that was offered, and their assessments of the written and oral examinations - in other words, fundamental aspects of their learning situation as immigrants in the continuing vocational training system. The research findings have additional relevance in light of the fact that the segment of the national ESF programme that deals with vocational language skills assistance also provides for supplementary language instruction for qualified immigrants in connection with continuing vocational training courses.
All of the courses examined for this survey had participants for whom German was their second language and who had more difficulties than native speakers with understanding explanations and assignments and with keeping up with the pace of instruction. When asked which learning aids were important for them, these participants wished first and foremost for written learning materials such as a glossary with detailed explanations of technical terms - this was also wished by participants who do not have an immigrant background. They also felt that a technical dictionary was important and - somewhat more frequently than German participants - additional instruction time, particularly before the examination.
By contrast, the option of receiving assistance in the form of instruction in one's native language played a much less important role. Furthermore, the wish to sit the written examination in one's native language was not pronounced among non-native speakers. This was particularly the case when they felt that on the whole they were being well-supported in their course: A total of 92% of the interviewed participants in special courses for immigrants which offered, for example, additional instruction time or learning materials that the lecturer had prepared said they would rather sit the examination in German than in their native language. By contrast, this figure was just 62% among immigrants attending regular courses who did not receive any assistance.
Written multiple-choice examinations were particularly difficult for non-native speakers. As shown by a linguistic expertise that was commissioned as part of the project, the examination forms that were examined (question-and-answer forms) used, in part, substantival phrases and compound nouns which made reading the texts and understanding the questions much more difficult. The same applies to the explanatory text segments which exhibited fundamental characteristics of officialese.
These stylistic forms make it fundamentally more difficult for all participants - regardless of their origin - to understand the questions well enough to be able to answer them. However, they are especially consequential for non-native speakers who have greater difficulty with very complicated wording than native speakers do. In addition, when they have to read hard-to-understand text segments several times, non-native speakers can also fail a written exam simply because they run out of time. For this reason, attention should always be paid to using clear and understandable language when formulating the questions for a written exam.10 It is also a good idea to give non-native speakers additional time when sitting an exam because they might have to read not only the questions but also the explanatory text segments several times.
Requirements placed on instruction personnel
It is indisputable that qualified instruction personnel are an important prerequisite for ensuring the quality of a course. In light of this, another study conducted by BIBB11 was aimed at determining what special requirements have to be placed on continuing vocational training instructors when they have both Germans and immigrants attending their courses. This exploratory study included instructors and learners from courses that were financed by the Federal Employment Agency and covered content from the IT field (office communication, application development, SAP). The admission requirements (formal vocational qualification or university degree) ensured that any problems that became evident during the study would not be due to a basic inability to learn on the part of the respondents but would have to have some other cause.
A total of 25 guided interviews were conducted with instructors and with participants of various origins in order to determine the participants' subjective view of their course (situations in which an immigrant background is important; dealing with difficulties in understanding German) and, in the process, allow space for the respondents' personal associations and narrative strands while also opening up the possibility of following up with more in-depth questions. Other sources of information included participatory observations on individual days during the courses and expertises on selected aspects of the subject of the research project.
Competence in dealing with bilingual persons
German is naturally the basis for communication in continuing vocational training courses. An adequate knowledge of German is therefore an admission requirement and the training providers check in advance to ensure that applicants have the requisite German language skills. For the learning situation of immigrants attending regular continuing vocational training courses, this means that in addition to the content-related demands that all course participants have to master, they also have language demands to cope with: They learn specialized/technical content in German, their second language - in the same, often short, amount of time as participants who are native speakers do. Even for persons with a good command of everyday German, this can cause problems that emerge during instruction, especially when working with technical terminology. At the same time, it is not always possible to tell language-related difficulties in understanding apart from content-related difficulties. The previously-mentioned learning aids such as glossaries with explanations of the most important terms provide constructive assistance as do additional lessons where technical terms are repeated and practised in connection with instruction content that has already been covered (assistance that is provided in tandem with continuing training).
Since it cannot be assumed that all immigrants are sufficiently proficient in both languages (see Esser 2006, p. ii) - in other words, have a high level of oral and written mastery in both their native language and German - instruction personnel should also be capable of dealing with the special learning situation of non-native speakers. This has not been the case on a systematic basis to date. Instructors attach importance not only to their professional competence. They also attach importance to, for example, having didactic skills for supporting self-learning processes and to using various media in their courses. This could give rise to the impression that the needs of all participants are being taken into consideration per se in the same way. However, formal equal treatment of all learners is bound up with not differentiating - but the group structure necessitates differentiation.
Instructors therefore need didactic and methodological expertise and skills in order, for example, to link verbal forms of instruction with visual presentations. In order to avoid difficulties, attention is also to be paid to the stylistic form used when presenting specialized / technical content. Even things that can seemingly be taken for granted are important for understanding instruction content. This means that not only are complicated sentence structures (splitting compound verbs, inserting relative clauses) to be avoided, but also that instructors should refrain from using dialect or speaking too fast or in a monotone. Stylistic precision helps all learners regardless of their origin. But it is particularly important for non-native speakers who have to deal with specialized / technical content in German.
Take cultural differences into account
The importance of 'culture' as an explanation for individual behaviour can be easily overestimated or underestimated.12 The importance that cultural norms13 have for an individual should therefore not be overrated. Even when caution is called for, it ought to be assumed that cultural notions influence behaviour during instruction. This pertains to, for example, the individual's understanding of courtesy or way of dealing with authorities, criticism and conflict. For some immigrants, it is 'impudent' or 'rude' to approach instructors when one has problems understanding things. It is also possible that wishes or criticism are formulated - if at all - only very cautiously and only when the individual is specifically asked. As the study shows, this is the case even when the difficulties involve fundamental problems with the instruction being provided, such as when the pace of the course is too fast for the individual and is therefore continually more than he can handle.
In such cases, there is the risk that many questions remain unanswered specifically because immigrants have to cope with special language-related demands in addition to the course's content-related demands. Instruction personnel therefore need not only knowledge regarding questions that arise in connection with German as a second language, but also must be sensitive to cultural differences in order to be able to adequately respond to and deal with their students' learning situation. This cannot mean that instructors should familiarize themselves with all aspects of the cultural norms of their students' various countries of origin. Rather, they need to have general bearings which they fine-tune as they gather experience in the course of the instruction they provide.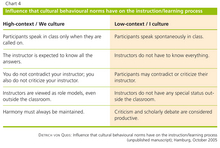 The anthropologist Edward Hall differentiates between 'high-context' or 'we' cultures and 'low-context' or 'I' cultures. To be found in Asian and Arabic countries and in the Mediterranean region, we cultures are strongly group-oriented. People in such cultures tend to express themselves indirectly. Verbal message are less important than the context; context includes the relationship between the persons communicating with one another. By contrast, I cultures - which according to Hall include Germany, Switzerland, Scandinavia and other North European countries (Hall/Hall 1990, 6 f.) - are rational-thinking, individualistic and action-oriented. Dietrich v. Queis (2005) was the first to fundamentally point out how this concept could be applied to instruction/learning situations (see Chart 4).
This is a generalized and simplified system that in no way takes the place of dealing with the individual learner on a personal basis. However, when mindfully applied, this type of cultural knowledge can make instruction personnel sensitive to behaviour exhibited by their students that is possibly shaped by cultural factors.
Sensitivity to the role that the relationship between the participants plays in communication
Stylistic idiosyncrasies or grammatical errors not only make it more difficult to understand the content that is to be learned or the individual's presentation of his work, they also breach the language standards that apply during a course (see Bethscheider/Troltsch 2007). In this way, an asymmetric communication situation can arise in courses where the participants are of different origins. Such a situation can be at the expense of the minority, even when the non-native speakers have a good mastery of German and the players involved are not intentionally discriminatory. Immigrants can be ashamed having an accent, their lack of vocabulary, grammatical errors or language-based misunderstandings, and they can also find that they are publicly embarrassed in their course. One example of this is an instructor's well-meant appeal to individuals to speak German ("we promise we won't laugh") or praise that is expressed in recognition of a student's contribution - but always entirely independent of the student's actual performance. As the interviews show, the fear that they might be removed from their course and advised to take a language course when they ask about something they did not understand due to problems understanding the German also contributes to immigrants' tendency to be cautious about asking questions during a course.
Therefore, in addition to being competent in dealing with different cultural patterns and different levels of language capability among course participants, instructors also need to be sensitive to the relationship side of communication and particularly to the asymmetry of relationships between an immigrant minority and native majority and its influence on communication during class. Instructors should be able to foster a sense of belonging to the class among all participants, without inappropriately ignoring or overemphasizing the individual's origins (Hoffmann 2005). Sociometric exercises and, especially, working in small groups are suited to this (see Fischer 2007, p. 100).
Recommendations for taking immigration-specific considerations into account in continuing vocational training offerings
Continuing vocational training offerings that take immigration-specific considerations into account recognize the additional language-related work that immigrants do during their continuing training and support in a very concrete way their earning professional qualification for the labour market - which itself is urgently seeking skilled workers. Instructor training and the provision of special learning materials for participants who are undergoing qualification in German as their second language should be supplemented with:
Assistance that is provided in the form of occupation-related language instruction during continuing vocational training:
Assistance that is provided in the form of additional instruction time during continuing vocational training can offset immigration-related learning difficulties. The European Social Fund (ESF) supports measures to prevent and reduce unemployment and to develop or restore people's employability. In Germany, ESF funds have been used to finance measures for immigrants for several years now. The Federal Office for Migration and Refugees (BAMF) has been tasked with implementing the national ESF programme segment Qualification and Continuing Training for Persons with an Immigration Background Using Occupation-related Measures, Particularly Occupation-related Language Courses and Placements for the EU funding period 2007-2013. This programme is not intended to replace or compete with the wide range of training schemes that the Federal Employment Agency, municipal branches of the Federal Employment Agency that are responsible for ensuring the basic minimum income level of unemployed jobseekers, and other bodies but rather is supposed to supplement them with an additional offering that revolves around language-related assistance.
This programme provides for, among other things, assisting immigrants who participate in continuing vocational training measures with persons with a non-immigrant background, and who want to undergo occupation-related language instruction in addition to their specialized instruction, whereby the language instruction is provided as supplementary assistance alongside continuing vocational training. This assistance is also available for persons who have earned formal vocational qualification or an academic degree.14
Course duration: The duration of continuing vocational training courses that are funded by the Federal Employment Agency was substantially shortened while the amount of the specialized content to be taught remained unchanged. However, time constraints act as a hurdle for learners when it comes to asking necessary questions and anchoring what has been learned through practice - this applies to all participants regardless of their origin. For those non-native speakers who are learning specialized content in German, the consequences are particularly far-reaching because non-native speakers need more time than native speakers do in order to work through instruction materials and, secondly, they have language-related difficulties understanding things, and it would require addition time to answer questions they raise in this connection. For this reason, a good balance between the amount of specialized content that is to be taught and the duration of the course is particularly important for the learning processes of the non-native-language minority.15
Adequate remuneration for instruction personnel: Looking not only at the declining number of full-time employees but also at the remuneration of instruction personnel, the German Institute for Adult Education (DIE) has found the consequences of the changes that have taken place in the continuing training field in recent years to be "dramatic" (Kraft 2006, p. 4). According to the DIE, funding cuts on the part of the Federal Employment Agency and the declines in the number of participants in continuing vocational training "go hand-in-hand with massive pay cuts". After social security contributions have been deducted from their pay, instructors are left in some cases with an hourly wage of eight euros. Consequently, free-lance instructors in the continuing vocational field could slip below the poverty line with these wages (ibid.). There is the risk that the precarious working situation of instruction personnel has a direct impact on the quality of the training provided because continuing vocational training instructors hardly invest in their own continuing training any more and competent, dedicated instructors switch to better-paying fields whenever possible. Adequate remuneration for instruction personnel that has obtained special training for working with mixed learning groups is therefore indispensable to ensuring the quality of continuing vocational training.
Further recommendations for improving integration into the labour market
Occupation-related language assistance like the kind provided for in the national ESF programme can foster immigrants' qualification and thus - via the individual's level of education and occupational integration - positively influence "social status, access to fundamental societal roles, participation in societal wealth and political decision-making processes" (Gesemann 2007, p. 50; similarly: Seifert 2007, p. 12).
In the interest of improving immigrants' integration into the labour market, further steps are necessary:
Recognition of foreign certificates and diplomas: The educational and vocational certificates and diplomas that immigrants have earned abroad are frequently not formally recognized in Germany.16 As a result of this, these persons are essentially barred from taking up employment that is commensurate with their abilities. In economic terms, this is a waste of existing resources. The regulations on recognizing educational and vocational qualifications should be revised and harmonized, so that immigrants have better chances of finding employment that is in keeping with their level of education. The BAMF has committed itself to developing, in cooperation with the Standing Conference of the Ministers of Education and Cultural Affairs of the Länder in the Federal Republic of Germany, a plan for the occupational integration of immigrants. This should not however be confined just to university graduates - as has been envisaged to date (see the 2007 Integration Plan, p. 80) - but rather include other occupational groups as well.
Requalification and skill upgrading: Updating training is necessary when an immigrant has earned vocational qualification abroad that does not quite fit the needs of the German job market but is recognized in part. This type of training teaches, for example, technical, occupation-specific language and knowledge about the regulations that apply to the respective occupational field in Germany. As part of the National Integration Plan, the BAMF has committed itself to developing a plan for integrating medical doctors who have immigrated to Germany from the former Soviet Republics, testing the suggested activities on a pilot basis and transferring them to the regular measures aimed at fostering integration (2007 Integration Plan, p. 80). The same procedure should be applied correspondingly to other occupational groups as well (such as teachers, persons working in specialized health occupations - with the exception of physicians - and persons in the skilled trades).
Informing and raising the awareness of persons responsible for personnel: The terms 'immigrant' and 'immigrant background' cannot adequately reflect the heterogeneity of the group of persons this term circumscribes. In terms of attributes such as level of education, occupational experience, social situation and even their cultural affiliations, there are as many differences between immigrants as there are between Germans.
The personnel managers in private companies and government agencies should be capable of making the necessary differentiations in order to avoid discriminating against individuals during the recruitment process. These persons need to have a knowledge of immigration and immigration-related matters and must have the ability to reflect on their own behaviour in order to be able to respond without rash prejudices to an applicant's outward appearance or particular deportment during the job application process.
Research and evaluation: Fostering immigrants' continuing vocational training and their occupational integration will require better data and knowledge that takes the heterogeneity of the target group into account and regards factors that hamper or promote such processes. In future, research and evaluation projects should take immigrants as a target group into account on regular and systematic basis so that it is possible to make empirically-founded statements about the quality of continuing vocational training offerings in terms of the integration of immigrants.
Outlook
The situation of young immigrants in school or vocational training / the working world naturally constitutes a priority field in the education and integration policy discussion because youths of all origins will shape the future of our society. However, failing to assist and train adults because of the many unsolved problems of the younger, upcoming generation would be an omission fraught with consequences. The two are inseparably linked with one another. Successful education influence's one's place in society and in this respect is often passed on to more than just the next generation (Fuchs/Sixt 2007). The educational and occupational biographies of one's parents and even grandparents are of enormous importance for the starting position of the upcoming generation in the education / vocational training system and on the job market.
Consequently, the question of whether today's adults successfully participate in society or live in Germany without occupational prospects despite having occupational qualifications therefore plays a role in deciding not just the life of the individual adult. This question also shapes on a long-term basis the chances of their children becoming accepted as equal members of society or being permanently 'disadvantaged' due to their origin. In other words: The question of how the vocational qualifications and skills of the parent generation are made use of, whether they are ignored or fully or partially recognized on the basis of clearly regulated procedures and fostered through the provision of continuing training plays a role in deciding whether the discrimination of immigrant children in the education system that has been observed to date (Sixt/Fuchs, no year) will be reversed on a lasting basis. There are no acceptable alternatives.
Related literature
Arnold, Rolf; Schiersmann, Christiane
Entwicklungstrends im Weiterbildungsbereich
In: Baethge, Martin; Buss, Klaus-Peter; Lanfer, Carmen: Expertisen zu konzeptionellen Grundlagen für einen Nationalen Bildungsbericht - Berufliche Bildung und Weiterbildung/Lebenslanges Lernen, Bonn/Berlin 2004, pp. 33-66
Auernheimer, Georg
Interkulturelle Kommunikation und Kompetenz
In: Migration und Soziale Arbeit, 27 (2005), 1,pp. 15-22
Bernsdorf, Wolfgang u.a. (Ed.)
Wörterbuch der Soziologie
Stuttgart 1969
Bethscheider, Monika; Schwerin, Christine; Settelmeyer, Anke
Gezielt Unterstützung anbieten! Teilnehmerinnen und Teilnehmer ausländischer Herkunft in Ausbildereignungslehrgängen. Eine Studie zur beruflichen Weiterbildung von Migrantinnen und Migranten
Bielefeld 2003
Bethscheider, Monika; Schwerin, Christine
Anforderungen an Trainerinnen und Trainer in der beruflichen Weiterbildung von Lerngruppen mit Teilnehmenden deutscher und anderer Herkunft - Grundlagen einer Zusatzqualifikation
Bonn 2005
Bethscheider, Monika; Troltsch, Klaus
Aspekte der "Etablierten-Außenseiter-Figuration" in der beruflichen Weiterbildung - Lerngruppen mit Teilnehmenden unterschiedlicher Herkunft
In: REPORT, 30. (2007), 3, pp. 51-60
Bilger, Frauke
Migrantinnen und Migranten - eine weitgehend unbekannte Zielgruppe der Weiterbildung. Empirische Kenntnisse und methodische Herausforderungen
In: REPORT, 29 (2006), 2, pp. 21-31
Brück-Klingberg, Andrea u. a.
Spätaussiedler mit höherer Bildung sind öfter arbeitslos
IAB-Kurzbericht Issue Nr. 8/2.4.2007
Bundesagentur für Arbeit / Federal Employment Agency
Analytikreport Statistik. Analyse des Arbeitsmarktes für Ausländer
o. O. (Nürnberg), December 2006
Bundesministerium für Arbeit und Soziales / Federal Ministry of Labour and Social Affairs (Ed.)
Nationaler Integrationsplan - Abschlussbericht der Arbeitsgruppe 3: Gute Bildung und Ausbildung sichern, Arbeitsmarktchancen erhöhen
Berlin, March 2007
Bundesregierung, Presse- und Informationsamt / Press and Information Office of the Federal Government (Ed.)
Der Nationale Integrationsplan - Neue Wege - Neue Chancen
Berlin, July 2007
Bundesvereinigung der Deutschen Arbeitgeberverbände / Confederation of German Employers' Associations
Berufliche Weiterbildung - Schlüssel zu Wettbewerbsfähigkeit und Beschäftigungsfähigkeit
Berlin, May 2007
Deeke, Axel
Sprachförderung allein greift häufig zu kurz
IAB-Kurzbericht, Issue 3, 31.1.2007
Englmann, Bettina; Müller, Martina
Brain Waste. Die Anerkennung von ausländischen Qualifikationen in Deutschland
Augsburg 2007
Esser, Hartmut
Migration, Sprache und Integration
AKI-Forschungsbilanz 4, Berlin 2006
Fischer, Veronika; Springer, Monika; Zacharaki, Ioanna (Ed.)
Interkulturelle Kompetenz. Fortbildung -Transfer-Organisationsentwicklung
Schwalbach/Ts. 2005
Frank, Irmgard; Gutschow, Karin; Münchhausen, Gesa
Das Meistern des Lebens anerkennen - Informell erworbene Kompetenzen als Teil des lebensbegleitenden Lernens
In: BWP 32 (2003) 4, pp. 16-20
Fuchs, Marek; Sixt, Michaela
Zur Nachhaltigkeit von Bildungsaufstiegen
In: KZfSS, 59 (2007), 1, pp. 1-29
Gesemann, Frank
Indikatoren der Integration im Bildungsbereich
In: Der Beauftragte des Senats von Berlin für Integration und Migration (Ed.): Berliner Beiträge zur Integration und Migration. Indikatoren zur Messung von Integrationserfolgen, Berlin 2007, pp. 48-70
Hall, Edward T.; Hall, Mildred Reed
Understanding Cultural Differencies
Yarmouth, Maine 1990
Hönekopp, Elmar
Situation und Perspektiven von Migranten auf dem Arbeitsmarkt in Deutschland - ein Problemaufriss in 14 Befunden. Statement für die AG 3 "Integration und Arbeitsmarkt" im Rahmen des Nationalen Integrationsplans. Dokumentation des Beratungsprozesses, (Hrsg.)
Bundesministerium für Arbeit und Soziales, Berlin 2007, pp. 158-166
Hoffmann, Ralf
Aktivierung und Förderung von Teamidentität - gruppenpädagogische Anforderungen an das Lehrpersonal in beruflichen Weiterbildungslehrgängen mit Teilnehmenden unterschiedlicher Herkunft
Rösrath 2005 (unpublished manuscript)
Knobloch, Clemens
Gutachten zur Verständlichkeit der Prüfungsfragen in der schriftlichen Prüfung nach der Ausbildereignungsordnung
Siegen 2001 (Unveröff. Manuskript, auszugsweise zit. in Bethscheider/Schwerin/Settelmeyer 2003, pp. 19-28)
Konsortium Bildungsberichterstattung (Ed.)
Bildung in Deutschland. Ein indikatoren-gestützter Bericht mit einer Analyse zu Bildung und Migration
Bielefeld 2006
Kraft, Susanne
Umbrüche in der Weiterbildung - dramatische Konsequenzen für das Weiterbildungspersonal, DIE Fakten
Online im Internet
Nohl, Arnd-Michael u.a.
Kulturelles Kapital in der Migration. Theoretische Grundlagen und empirisches Design einer internationalen Studie zur Verwertung von Bildungserfolgen am Arbeitsmarkt
Hamburg 2006
Queis, Dietrich v.
Einflüsse kultureller Verhaltensstandards auf den Lehr-/Lernprozess (unpublished manuscript)
Hamburg, 2005
Seidel, Sabine
Erhebungen zur Weiterbildung in Deutschland. Pfade durch den Statistikdschungel
In: Gisela Feller (Hrsg.): Weiterbildungsmonitoring ganz öffentlich. Entwicklungen, Ergebnisse und Instrumente zur Darstellung lebenslangen Lernens, Bielefeld 2006, S. 35-61
Seifert, Wolfgang
Integration und Arbeit
In: Aus Politik und Zeitgeschichte 22-23/2007 from 29 May 2007, pp. 12-19
Sixt, Michaela; Fuchs, Marek
Die Bildungsbenachteiligung von Migrantenkindern als Folge der Entwertung von sozialem und kulturellem Kapital durch Migration
In: Dirim, Inci; Merchil, Paul (Ed.): Migration und Bildung, Wissenschaftliche Kontroversen (to be published shortly)
Imprint BIBB REPORT
BIBB REPORT
Volume 2, Issue 4, March 2008
ISSN Internet: 1869-2761
ISSN Print: 1865-0821


Published by
Bundesinstitut für Berufsbildung (BIBB)
The President
Robert-Schuman-Platz 3, 53175 Bonn

Publishing house, advertising, distribution
W. Bertelsmann Verlag GmbH & Co. KG
Postfach 10 06 33, 33506 Bielefeld
Tel: +49 (0) 521 91101 11
Fax: +49 (0) 521 91101 19
http://www.wbv.de/
service@wbv.de

Print version
The print version of this publication can be ordered from
W. Bertelsmann Verlag GmbH & Co. KG.


Further information
www.bibb.de/en/imprint.htm                  

Editors
Dr. Elisabeth M. Krekel,
Anke Settelmeyer,
Dr. Eckart Strohmaier (in Charge)




Editorial assistant
Anne Obertreis
Tel: +49 (0) 228 107 2824
E-Mail: bibbreport@bibb.de


Copyright
Reproduction of this publication - in part or in whole -
is prohibited without BIBB's prior permission.


Point of contact regarding content
The editors