X
Sie verwenden einen veralteten Browser, mit dem nicht alle Inhalte des Internetauftritts www.bibb.de korrekt wiedergegeben werden können. Um unsere Seiten in Aussehen und Funktion in vollem Umfang nutzen zu können, empfehlen wir Ihnen, einen neueren Browser zu installieren.
2017 Nursing Act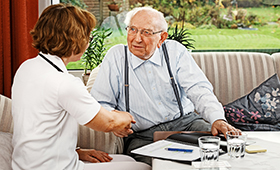 © Ingo Bartussek - fotolia.de
Germany's latest Nursing Act (PflBG) stipulates new tasks for the Federal Institute for Vocational Education and Training (BIBB).
In future, BIBB will house an office to support the work undertaken by the Specialist Nursing Committee regarding the development of nationally standardised general training plans. The members of this Specialist Committee are appointed by the Federal Ministry of Health (BMG) and the Federal Ministry for Family Affairs, Senior Citizens, Women and Youth (BMFSFJ).
The office at BIBB is still within the process of being set up. Until it can assume its tasks, we would like to take this opportunity to mention the information and guidance provision which is currently in place.
Current information and guidance services
The guidance team at the Federal Office for Family Affairs and Civil Society Tasks (BAFzA) is available to offer advice, information and support at a local level. The homepage of the Federal Ministry for Family Affairs, Senior Citizens, Women and Youth (BMFSFJ) provides details of contact partners by federal state, dates of current events and other relevant information.
www.altenpflegeausbildung.net (German only)
The BMG and the BMFSFJ are the federal ministries designated as being responsible for the new Nursing Act and will be happy to respond to any legal questions you may have.
Publisher:

Federal Institute for Vocational Training (BIBB)
The President
Robert-Schuman-Platz 3 53175 Bonn

https://www.bibb.de