Almost all companies believe that more support is required for the training of refugees
Christian Gerhards
Company-based training makes an essential contribution to the integration of young refugees. Numerous measures are in place to provide support prior to and during training. However, how suitable are these measures from the point of view of the companies? The 2017 BIBB Training Panel surveyed companies providing training on this issue. Respondents included both companies who are already training refugees and those who have not yet been able to gain any experience in this area.
Refugees as trainees at German companies
The survey conducted by the BIBB Training Panel (cf. Information Box) uses the term "refugee" to refer to persons who have been officially recognised as refugees, have been accorded the status of asylum seeker or have been granted special leave to remain. The survey took place between February and September 2017. At this point, only a small number of refugees had progressed to company-based training. Many were initially taking part in transitional measures. At the time of the survey, 2.7 per cent of companies providing training in accordance with the Berufsbildungsgesetz (BBiG) [Vocational Training Act] or the Handwerksordnung (HwO) [Crafts and Trades Regulation Code] stated that their trainees included at least one refugee. This gives an extrapolated figure of around 12,000 companies. Refugees are most likely to be undergoing training in the sectors of "personal services" (e.g. transport, hotel and restaurant trade, laundries – 8.9 %) and in "public sector and education" (4.0 %). The latest survey of trainers carried out by the Deutsche Industrie- und Handelskammer (DIHK) [Association of German Chambers of Commerce and Industry] arrives at similar results (cf. DIHK 2017). Most firms providing training to refugees have only one such trainee (75.6 %). It is revealed that this is the case in both smaller and larger companies. Only at companies with between 20 and 99 employees subject to mandatory social insurance contributions does the figure rise to reach between one and two refugees (average of 1.5).
This is surprising to the extent that major firms usually train more young people per company than their smaller counterparts and may indicate possible uncertainties and areas in which support is required. In 2016, BIBB surveyed SMEs on the extent to which certain measures could assist companies in instigating additional training places for refugees. Particular aspects mentioned here included German courses to accompany training, practical placements, assistance with the completion of formalities, training support measures, additional vocational school teaching and placement services for suitable refugees (cf. EBBINGHAUS 2017, p. 453).
BIBB Training Panel
The Establishment Panel on Training and Competence Development (referred to in abbreviated form as the BIBB Training Panel) is an annual representative survey of 3,500 companies in Germany which was first conducted in 2011. Its aim is to deliver detailed information on the structures and developments of company-based training measures and on correlations between such measures and demand for company-trained workers. The main emphasis of the survey is on company activities in the fields of initial and continuing training. In addition, the panel includes various special focuses which look in more detail at current issues which are of relevance in terms of academic research and social policy.
Questions on support measures for the training of refugees were included in the 2017 wave of the survey, and responses were received from 2,076 companies providing training.
For detailed information on the study, please visit www.bibb.de/qp
Evaluation of support measures
In the BIBB Training Panel, previous research was used as a basis for asking companies how appropriate they deemed certain support measures to be for the training of refugees. Companies were able to assess the measures on a scale from "very suitable" (1) to "completely unsuitable" (5).
The survey covered companies providing training both with and without refugees amongst their trainees. This enables a comparison to be undertaken as to whether evaluation of support measures is affected by the fact whether companies have already gained experience of training refugees or not. The Figure depicts the proportions of companies which view a support measure as "very suitable" or "quite suitable" (points 1 and 2 of the scale).
Questions were asked about measures prior to and during training and about individual and/or company support. All companies providing training, both those with and without refugees amongst their trainees, predominantly believe that the support measures stated in the survey are suitable. Nevertheless, it is clear that companies which themselves provide training to refugees are even more likely to view the support measures stated as helpful.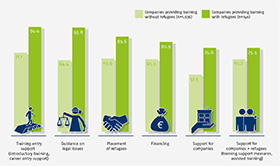 Which support measures are viewed as being particularly appropriate? Almost all companies with refugees amongst their trainees believe that support measures securing the basic prerequisites of training are suitable. 94.4 per cent view vocational preparation schemes such as introductory training or career entry support measures as being helpful. 93.8 per cent express a wish for more support with legal issues (e.g. regarding the "3 + 2") regulation. 85.6 per cent of companies providing training which have refugees amongst their trainees are of the view that assistance with placement of suitable refugees is useful. 80.9 per cent of companies offering training to refugees also welcome financial assistance via such vehicles as vocational education and training subsidies. More than three quarters of this group (75.6%) believe that support measures during training, such as external training management, are helpful. Three quarters of companies also welcome measures which support interaction between the refugees and the company, such as the training support measures provided by the Agentur für Arbeit [Employment Agency] or assisted training.
Future need for support
The results offer a general picture of the prevailing attitude towards support measures for the training of refugees. The assessments made by companies providing training which have already gained experience in this area seem to be particularly important. Existing support measures are viewed as suitable by the vast majority of the companies. This matches the perception of the refugees themselves, who wish to receive support in similar areas (cf. GEI/MATTHES 2017). In light of the growing number of refugees who will apply for a training place in future, this assessment could exercise a seismographic function in terms of identifying where stakeholders from the fields of policy making, labour administration and trade and industry should seek to strengthen support provision or offer additional funding if necessary.
DIHK: Ausbildung 2017. Ergebnisse einer DIHK-Online-Unternehmensbefragung. www.dihk.de/ressourcen/downloads/ausbildungsumfrage-2017.pd f (retrieved: 01.02.2017)
EBBINGHAUS, M.: Maßnahmen zur Förderung des Ausbildungsplatzangebots für Flüchtlinge aus Sicht von klein- und mittelständischen Ausbildungsbetrieben. In: BIBB (Hrsg.): Datenreport zum Berufsbildungsbericht 2017. Informationen und Analysen zur Entwicklung der beruflichen Bildung. Bonn 2017, S. 451–456 – URL: www.bibb.de/dokumente/pdf/bibb_datenreport_2017.pdf  (retrieved: 01.02.2017)
GEI, J.; MATTHES, S.: Refugees on their way into training – What support do they want? In: BWP 46 (2017) 4, S. 4–5 – URL: https://www.bibb.de/en/66615.php   (retrieved: 01.02.2017)
CHRISTIAN GERHARDS
Dr., Research Associate in the "Sociology and Economics of Vocational Education and Training" Department at BIBB
Translation from the German original (published in BWP 2/2018): Martin Kelsey, GlobalSprachTeam, Berlin