16/2018 | Bonn, 22/03/2018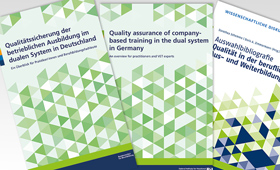 The quality and attractiveness of vocational education and training are major educational policy challenges both in Germany and internationally. Because VET systems in other countries are predominantly school based, one particular question that arises abroad is which instruments and pathways secure training quality within the German dual system. The Federal Institute for Vocational Education and Training (BIBB) has now published a guide entitled "Quality assurance of company-based training in the dual system in Germany – an overview for practitioners and VET experts" in order to provide a structured overview of the main quality assurance mechanisms in initial VET company-based training.
The brochure, which is available in German and English,
outlines the most important regulations, procedures and stakeholders which ensure and pursue the further development of training quality at the company as a learning venue;
places the German route of providing quality assurance in the dual system within the context of the European quality assurance debate;
describes the various elements of quality assurance in initial VET company-based training from the development of national training standards to the drawing up of a company training plan;
and includes a list of the legal foundations and a survey of further reference literature
Online and print versions of the publication are available free of charge in both German and English. It has been prepared by the Federal Ministry of Education and Research (BMBF) on behalf of the German National Reference Point for Quality Assurance in Vocational Training (DEQA-VET), which is based at BIBB.
Background information
In its capacity as Germany's national reference point, DEQA-VET at BIBB forms part of the European Network for Quality Assurance in Vocational Education and Training (EQAVET). This network currently comprises 34 member states and advocates the application of joint principles of quality assurance in vocational education and training.
DEQA-VET seeks to network the parties involved in VET in Germany. Its objective is to create a network of VET participants, including the social partners, companies, vocational schools, full-time vocational schools, providers and certifying bodies of advanced and continuing education, VET research, policy making and federal state administrative bodies, and to take on an intermediary role between the national and European level.
For further information, please visit www.deqa-vet.de/en
The brochure may be downloaded or ordered in English at www.bibb.de/veroeffentlichungen/de/publication/show/8548.
Point of contact: Helena Sabbagh; email: sabbagh@bibb.de 
Specimen copy requested if printed.