New training year begins with 25 updated occupations
Professor Esser comments: "Pace of adaptation is increasing because of digitalisation"
41/2018 | Bonn, 26.07.2018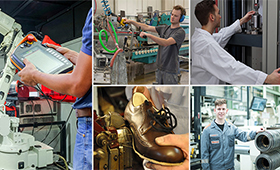 The new training year officially gets underway on 1 August, covering the usual complete A to Z of occupations which currently enjoy state recognition within the dual system. It will also feature no fewer than 25 re-regulated occupations, including the entirely new option of "management assistant in e-commerce". Once again, several hundred thousand young people and young adults who have secured a training contract will embark upon their future careers by entering the vocational education and training system.
"A modern and effective vocational education and training system is dependent upon the quality and current validity of its training regulations," stressed Friedrich Hubert Esser, President of the Federal Institute for Vocational Education and Training. "Technological development and digitalisation of the world of work have brought about a significant increase in the pace of adaptation. Securing a supply of young skilled workers is crucial to Germany's success as an economic location. In future, there will be a particular need for more highly-qualified specialist staff. Vocational education and training is in competition with the universities and the universities of applied sciences. BIBB will continue its commitment to encouraging motivated and talented young people to take the VET route in order to tap into all the areas of skills potential in Germany."
The following new and modernised training regulations will enter into force with effect from 1 August:
Ceramic testing technologist
Chemical technician
Construction mechanic
Custom shoemaker
Electronics technician for automation technology
Electronics technician for building and infrastructure systems
Electronics technician for devices and systems
Electronics technician for industrial Engineering
Electronics technician for information and systems technology
Electronics technician for information and telecommunications systems
Industrial mechanic
Information and telecommunications system support specialist
Information technology officer
Information technology specialist
Management assistant in e-commerce
Mechatronics fitter
Milling machine operator
Plant mechanic
Plate glass technologist
Precious stone cutter
Precision tool mechanic
Process technologist in the metal industry
Stonemason and sculptor
Tools mechanic
Vessel and equipment constructor
Young people and young adults are currently able to choose from a total of 326 recognised dual training occupations. Since 2008, BIBB has worked with the federal ministries responsible, the social partners and experts from the field of company practice to revise a total of 138 training regulations in order to take the latest economic, technological and societal requirements into account. This illustrates the adaptability of dual vocational education and training in Germany and emphasises the system's ability to embrace change.
In 2017, approximately 55,000 new training contracts were concluded in twelve training occupations which had been updated in the previous year.
BIBB is already busy with the modernisation of further training occupations, including organ maker, painter and varnisher, and packaging technologist.
The Federal Institute for Vocational Education and Training also provides training itself. 14 trainees and one intern undergoing introductory training will enter working life at BIBB on 1 August. At the start of the new training year, the institute will have a total of 35 trainees in the five occupations of specialist in market and social research, specialist in media and information services, information technology specialist, office manager, and event Manager.
Specimen copy requested if printed.