Vocational education and training cooperation with Iran
BIBB supports VET reforms—workshop in Teheran
04/2019 | Bonn, 12.02.2019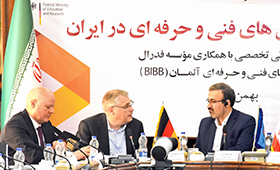 The Federal Institute for Vocational Education and Training (BIBB) will advise Iran on its planned VET reforms. At a workshop in Teheran which BIBB helped to organise, Germany and Iran signed a Memorandum of Understanding on future vocational education and training cooperation between the two countries. The joint declaration agreed between the Federal Ministry of Education and Research (BMBF) and the Iranian Ministry of Cooperatives, Labour and Social Welfare (MCLS) was concluded in the presence of the Iranian Deputy Minister of Labour, the German Ambassador to Iran, and a number of high-ranking VET experts from both nations.
One major objective of the Iranian reform plans is the establishment of a "High Council of Technical and Vocational Education and Training" ("High Council of TVET"), in which ministries, government representatives, chamber organisations, and selected specialists will all be involved. The remit of this national body will be to foster joint governance and coordination in Iranian vocational education and training. This enhanced cooperation between Iranian VET stakeholders aims to increase the employability of young Iranians and ensure that the training of skilled workers meets the requirements of trade and industry. The Technical & Vocational Training Organisation (TVTO) is entrusted with the task of providing support to the High Council.
"Our Iranian partners have asked BIBB to provide support and advice for the development of the High Council," explained BIBB President Friedrich Hubert Esser in Teheran. "We will be drawing on the experiences we have gained from working together with economic and social partners on the structuring and further development of the dual system as well as the knowledge we have accrued from our international advisory activities. We are confident that this will provide a basis upon which to stimulate the development of the Iranian VET approach."
The BIBB President praised the endeavours undertaken by the Iranian Government to further develop vocational education and training. He stated that considerable interest had been displayed in the German experiences and that the Iranians were prepared to engage in open dialogue with their German partners. He felt that the proposals made regarding a standardised vocational education and training system were very promising.
The signing of the Memorandum of Understanding is the result of intensive talks on the expansion of German-Iranian VET cooperation. These discussions were renewed following the end of sanctions on Iran in 2016. The cooperation agreement stipulates that GOVET, the German Office for International Cooperation in Vocational Education and Training based at BIBB, will support the establishment of the High Council of TVET by providing consultancy services. The agreement also encompasses further cooperation with the BMBF iMOVE—Training made in Germany initiative, which assists German training providers in obtaining market entry in other countries and has maintained a contact agency in Teheran since 2017.
Further information is available at www.bibb.de; www.govet.international and at www.imove-germany.de
Specimen copy requested if printed.