Vocational Training in Research and Practice - BWP
The journal "Berufsbildung in Wissenschaft und Praxis - BWP" (Vocational Training in Research and Practice) reports on research findings and practical experience in the field of vocational education and training. BWP is published six times a year, each issue has a special focus. So BWP offers a well-founded, multi-faceted treatment of the main topic, with attention given to national and international developments, fostering an exchange between players in research, practice and policy.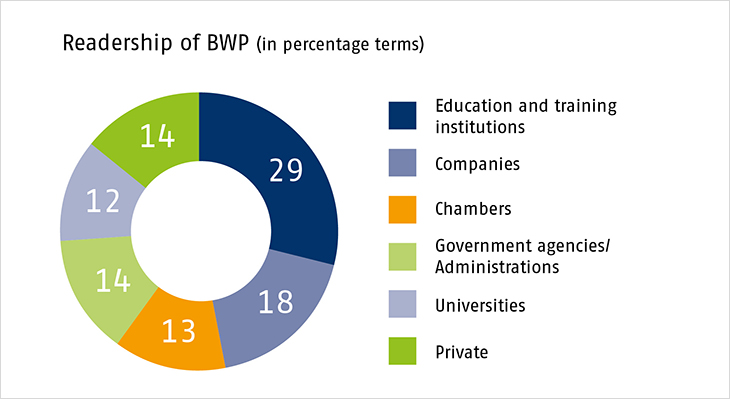 An Editorial Board helps the BWP editorial team select topics and evaluate articles. Members of this panel are Prof. Dr. Ursula Bylinski, Institut für Berufliche Lehrerbildung der FH Münster; Dr. Stephanie Conein, BIBB; Ute Hippach-Schneider, BIBB; Christiane Köhlmann-Eckel, BIBB; Dr. Dirk Pfenning, Bayer AG, Leverkusen; Kurt Schmid, Österreichisches Institut für Bildungsforschung der Wirtschaft, Wien; Dr. Michael Tiemann, BIBB as well as Prof. Dr. Ines Trede, Eidgenössisches Hochschulinstitut für Berufsbildung, Zollikofen.
Upon publication, you can find all articles on the website bwp-zeitschrift.de. One year after publication download is free of charge. Subscribers of BWP also have free access to current year's issues.
Information for authors
If you are planning an article, please contact us in advance with a short e-mail. We shall agree the concept for the article, scope and publication date with you based on an outline.
Preview
Special topics of upcoming issues:
| Issue | Special focus | Manuscript deadline |
| --- | --- | --- |
| 1/2020 | Continuing vocational education and training | In preparation |
| 2/2020 | Qualification in nursing care | 14.01.2020 |
| 3/2020 | Vocational Education and Training in Europe | 14.04.2020 |
| 4/2020 | Networking fo Learning Venues | 14.07.2020 |
Order
Franz Steiner Verlag
Birkenwaldstr. 44
70191 Stuttgart
Germany
Tel.: +49 (0)711 2582-0
Fax: +49 (0)711 2582-390
E-Mail: service@steiner-verlag.de
Internet: www.steiner-verlag.de/bwp
Price
Single issue: 9.80 EUR plus postage and packaging: 3.40 EUR (inland), 4.60 EUR (abroad), prices include VAT
Annual subscription: 48 EUR plus postage and packaging: 19,80 EUR (inland), 26,40 EUR (abroad), prices include VAT
Editorial team
Christiane Jäger (senior editor)
Katharina Reiffenhäuser
Arne Schambeck
Maren Waechter
Federal Institute for Vocational Education and Training (BIBB)
Editorial Office BWP
Robert-Schuman-Platz 3
53175 Bonn
Germany
E-Mail: bwp@bibb.de
Publisher:
The Federal Institute for Vocational Education and Training (BIBB)
The President
Robert-Schuman-Platz 3
53175 Bonn
Germany
Last modified on: November 26, 2019