BIBB continues its involvement in OERinfo
Since 2016, the Federal Institute for Vocational Education and Training (BIBB) has been involved as a transfer partner for vocational education and training in developing the content of the central information office for OER (Open Educational Resources) — OERinfo. Following the successful initial funding phase, the BMBF has decided to continue with a second, two-year funding phase.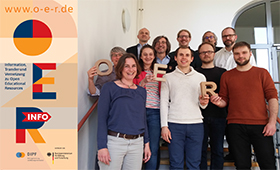 The BIBB will also be involved in OERinfo in the second funding phase as a transfer partner for vocational education and training. Advancing digitalisation has led to an increase in the demand for open educational resources in vocational education and training—in part due to the fact that existing teaching and learning content is becoming outdated much faster. Additionally, demand for individualised learning content and formats has risen. In this case, OER can be a useful addition to traditional teaching and learning media.
During the initial OER funding phase, the BIBB prepared a large amount of information material and organised numerous events. The aim is to further expand the network in the second funding period. As part of this, the transfer of knowledge into vocational education and training will be encouraged with a varied portfolio of events and articles. Development will focus in particular on the potential for innovation which stems from using OER in vocational education and training across learning locations, thus making it practical and focussed on application!