Four out of five young people are being trained in their desired occupation
Findings of the BA/BIBB applicant survey
35/2019 | Bonn, 31.10.2019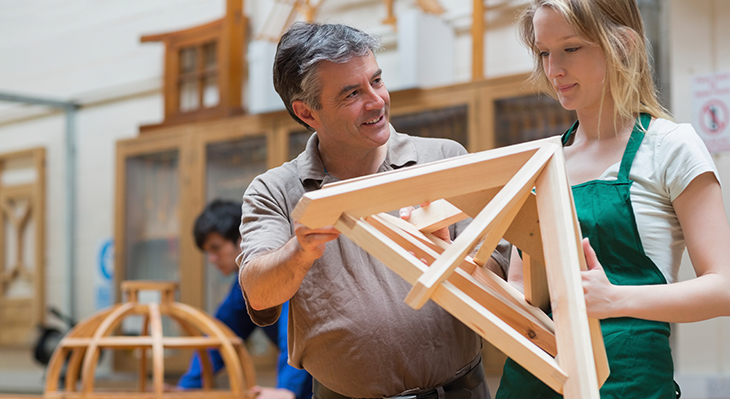 The vast majority (83%) of applicants able to find a company-based training position are receiving training in their desired occupation or in one of their desired occupations. These persons are significantly more satisfied with their current professional situation than those being trained in an occupation other than their desired occupation. These are the findings of the representative BA/BIBB applicant survey 2018, conducted by the Federal Institute for Vocational Education and Training (BIBB) and the Federal Employment Agency (BA) from November 2018 to February 2019.
Men, for example, were found more frequently than women to state their training occupation as being their desired occupation. Young people and young adults who had applied for a training position in previous years ("old applicants") found themselves less frequently in a desired occupation than persons applying for the first time. Applicants with a migration background also found themselves in a desired occupation less frequently.
Interestingly, individuals with the higher education entrance qualification reported less often than applicants with intermediate-level qualifications that they were in a desired occupation. The team of authors suspect that a reason for this finding might be that young people and young adults with the higher education entrance qualification are interested in occupations for which there is a lot of competition, for example occupations such as media designer or event manager, where there are more applicants than the number of training positions available.
Around 4,400 individuals registered with the Federal Employment Agency as seeking training participated in the survey. All applicants who at the time of the survey were in company-based training according to the Vocational Training Act or the Crafts and Trades Regulation Code were asked whether their training occupation was their desired occupation.
The study is available for download on the BIBB website at: www.bibb.de/vet-repository/000003 (German only). Further information is available at www.bibb.de/de/85311.php (German only)
Specimen copy requested if printed.