Esser: "VET must be the pacesetter for the working world of the future!"
The 2018 BIBB Congress emphasizes the importance of vocational education training
32/2018 | Bonn, 08.06.2018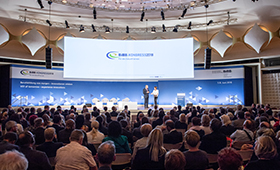 "Vocational education and training must become the pacesetter for the working world of the future! This is because no other training and qualification pathway is better suited to preparing people for the company requirements of tomorrow. However, above all the potential associated with digitalisation, in particular the potential for initial and continuing vocational education and training, must be better exploited. Vocational education and training will then, once more, be given the respect it deserves." This statement was made by Friedrich Hubert Esser, President of the Federal Institute for Vocational Education and Training (BIBB) to conclude the BIBB Congress 2018 in Berlin. On the basis of the slogan "Learning for the future: VET of tomorrow - experience innovations" around 900 education and training experts from 25 countries engaged in intensive discussions covering the current challenges and prospects for vocational education and training over two days.
He explained that the link in particular between practice-oriented training in the work process, or a customer's order, and systematic learning at a vocational school was optimal for young people and young adults. Esser added that this would allow those key qualifications and cross-specialism competencies to be acquired which would be essential in future. This would include, for example, general overview knowledge, recognition of interrelationships, process-oriented actions, and the ability to solve problems.
"Digital media and virtual learning environments offer entirely new opportunities and, with them, the chance to further people's motivation for learning and to provide renewed impetus to learning location cooperation between companies, vocational schools and inter-company education and training centres. This means we can adopt an innovative approach to linking together digital learning and working," emphasized Esser, adding that digital teaching and learning media can also be used increasingly in continuing vocational training.
He explained that the importance of continuing training in particular would increase in a digital world of work. The congress was agreed on this. "However, we must organise continuing vocational training with a greater focus on the workplace and on the work process. This is the only way in which we can achieve our aim of making Germany into the world champion for continuing training."
He added that discussion at the BIBB Congress had shown that vocational education and training needed, in part, to be rethought in order to deal successfully with what the future will bring. Attractive and modern training and advanced training occupations need to be created which do not exclude any target group, initial and continuing vocational education and training need to be more closely integrated with one another, and the permeability between the training systems needs to be further enhanced. "We cannot successfully shape the vocational education and training of tomorrow using yesterday's tools," explained the BIBB President. "Action therefore needs to be taken on national initiatives to support the future-oriented qualification of training personnel and teaching staff in companies, vocational schools and inter-company education and training centres." He explained that, in particular, the vocational school as a learning location needed even greater consolidation in the digital age. This also includes securing the next generation of teachers - in particular in commercial or technical occupations, added Esser in conclusion.
Further information on the BIBB Congress is available at https://kongress2018.bibb.de/en/. The discussions in the congress plenary and some of the speakers' presentations are also available at this internet address.
Specimen copy requested if printed.