Second UNESCO World Open Educational Resources Congress adopts new action plan
The 2nd UNESCO World Open Educational Resources (OER) Congress took place in Ljubljana, Slovenia, from 18 to 20 September 2017. The conference, which bore the official title of "OER for Inclusive and Equitable Quality Education: From Commitment to Action" devoted particular attention to the fourth of the UN's goals for sustainable development.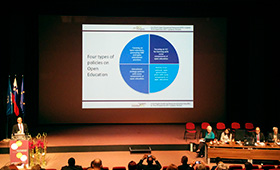 The event, which could also be followed online, was attended by more than 500 educational policy, academic research and trade and industry representatives and civic society stakeholders from over 100 countries. Five years after the last World Congress, the participants began by undertaking an assessment of progress achieved. This then served as the basis for defining subsequent objectives for the coming years. The summit has resulted in an action plan for fostering OER worldwide and for the firm and broadly based establishment of the concept in educational policy and practice.
Whereas only two German delegates were present at the 2012 conference held in Paris, the country's representation in Ljubljana comprised 26 experts. The German delegation was headed by Prof. Dr. Verena Metze-Mangold, President of the German UNESCO Commission. She was also joined by staff from OERinfo, the central information platform for OER across all educational sectors in Germany. The Federal Ministry of Education and Research is currently funding 24 projects aimed at increasing acceptance and dissemination of OER.
Numerous countries had followed up on the idea included in the Prague Declaration that awareness and use of OER should be promoted via targeted strategies and research projects. These successes were highlighted in various presentations made at the congress and within the scope of a total of 28 "Satellite Events" scheduled to run in parallel with the conference itself. The lively networking that took place was completely within the spirit of the concept of OER. It quickly became apparent that Germany is not the only country in which OER stakeholders and OER-related activities are mainly to be found in the sectors of general schooling and higher education. By way of contrast, initial and continuing vocational education and training is lagging behind in terms of this development, both in Germany and internationally.
The following projects concerning the use of OER in vocational education and training were presented.
UNEVOC Network: Perspectives for Open Educational Resources in vocational education and training
Robert Schuwer and Ben Janssen presented the results of a study into the use of OER in VET
In addition to this, presentations were given of four further projects relating to OER in vocational education and training from Croatia, Germany, Madagascar and Slovakia.