X
Sie verwenden einen veralteten Browser, mit dem nicht alle Inhalte des Internetauftritts www.bibb.de korrekt wiedergegeben werden können. Um unsere Seiten in Aussehen und Funktion in vollem Umfang nutzen zu können, empfehlen wir Ihnen, einen neueren Browser zu installieren.
Integrated solutions work best for key issues
Federal Metal Association visits information event at BIBB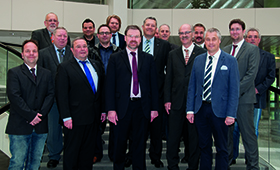 Whether it's refugee access to vocational education and training in Germany, skilled worker development on the future employment market or the challenges and prospects for digital transformation - it is precisely key current issues such as these which require integrated solutions. Members of the vocational education and training committee of the Federal Metal Association and experts from the Federal Institute for Vocational Education and Training agreed on this at a wide-ranging and in-depth discussion in Bonn. The devil, it would seem, is clearly in the detail.
How can refugees make meaningful use of the time they have to wait before their applications are processed and before their efforts finally lead to training or work? What needs to be done to ensure that, as far as possible, the supply of workers meets the demand? And which qualifications will assume overriding importance if there is a radical change in the tasks and performance profiles of employees in the future? The keywords such as "specialist course", "regard for resource-efficiency" and "IT competence" were widely used in the presentations and discussions and left meeting participants in no doubt of the tension which exists between the need to establish the details and the speed required to make appropriate progress.
Besides Michael Härtel, participants at the information event representing the Federal Institute for Vocational Education and Training were Prof. Dr. Robert Helmrich, Axel Kaufmann and Dr. Friedel Schier and also President Prof. Dr. Friedrich Hubert Esser. In addition to his remarks regarding the current status of regulatory work in the metal working occupations, Esser emphasized the importance of considering the issues on the agenda as a whole. "How, for example, can we make use of the fact that the refugees - the future skilled workers - are able to use the mobile phones they have with ease despite the poverty existing in many cases?". Finally, he added how important it was to remember that "regardless of how vocational education and training changes in view of what's ahead - all those involved must ensure that this branch of our education and training system remains attractive and, if possible, becomes even more so.
Publisher:

Federal Institute for Vocational Training (BIBB)
The President
Robert-Schuman-Platz 3 53175 Bonn

https://www.bibb.de
User data is collected from you whenever you visit this site. To find out how the Federal Institute for Vocational Education and Training (BIBB) handles your data and the purpose of processing your data please refer to our statement on data protection.