X
Sie verwenden einen veralteten Browser, mit dem nicht alle Inhalte des Internetauftritts www.bibb.de korrekt wiedergegeben werden können. Um unsere Seiten in Aussehen und Funktion in vollem Umfang nutzen zu können, empfehlen wir Ihnen, einen neueren Browser zu installieren.
WorldSkills Germany to stage a conference at the Haniel Academy in Duisburg
on 15 and 16 March 2018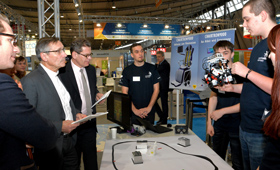 In the "Digital Youngsters" competition, apprentices develop their vision of the future of learning and working.
What are young people's thoughts about the future? Do they have different approaches to and a different understanding of learning? What can young people teach us? A special conference entitled "Towards a certain future" will aim to embody the characteristics of a future workshop and of a think tank.
The event will take place under the banner of "Learning from learners and seeing champions in action". It will provide young talented people with an opportunity to talk about their own approaches and experiences and to engage with other participants.
The idea of adopting such an active structure and of encouraging networking is to enable the various perspectives of vocational education and training to be mapped against the future of the system.
The Federal Institute for Vocational Education and Training will be supporting the conference in its capacity as a partner. BIBB expert Professor Michael Heister will give a presentation to a workshop for trainers and human resources managers and will enter into debate with those present.
WorldSkills Germany is a funding initiative which organises national and international occupational competitions. Its objectives are to highlight and use the potential and impact of such performance contests for all parties involved and to work on further development in conjunction with partners from the fields of education, trade and industry, and policy making. As a network partner within the area of dual training, WorldSkills Germany is seeking to open up new pathways that will enable young people to turn their passion into a future occupation.
Publisher:

Federal Institute for Vocational Training (BIBB)
The President
Robert-Schuman-Platz 3 53175 Bonn

https://www.bibb.de
User data is collected from you whenever you visit this site. To find out how the Federal Institute for Vocational Education and Training (BIBB) handles your data and the purpose of processing your data please refer to our statement on data protection.